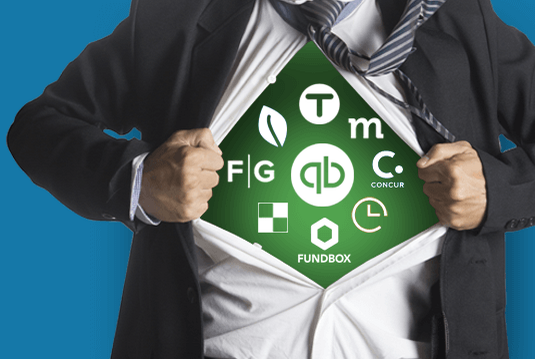 In my previous post about accounting for meals and entertainment expenses, I mentioned Receipt Bank as an app that syncs with QuickBooks Online to keep track of receipts and expenses.
That's just one example of an app that integrates with QuickBooks Online. Apps are important because they make you more productive. Most of the time, apps help you avoid a manual function that you previously had to do with QuickBooks or other accounting software. Intuit has carefully chosen third-party apps based on two criteria. First, the app must perform a function that is not already included in QuickBooks Online, and second, the function must integrate or sync with the software.
Here are my top 10 favorite apps for your review; to keep this simple, the explanation for each one comes directly from the Intuit Apps website.
Bill.com – Automate your payables and receivables online. Route bills for approval, store and share documents, send invoices via email or US mail, pay and get paid, and charge customers via ACH or credit card. Automatically sync with QuickBooks Online and Desktop.
Receipt Bank – Get rid of the clutter. Use Receipt Bank to manage all your business expenses. Eliminate data entry – Receipt Bank extracts the info from your receipts and invoices quickly and accurately. Your data is then seamlessly synced with QuickBooks Online.
Gusto (formally Zen Payroll) – Gusto is the easiest way to pay employees and contractors. Our full-service payroll means we take care of all payroll tax payments and filings on your behalf. Every time you run payroll, total wages and taxes are synced with QuickBooks Online.
Method CRM – Method specializes in CRM for QuickBooks and is the top-rated CRM on Intuit Apps.com. Keep your customer follow-ups and history all in one place. Simplify the way you get your work done. Note: nonprofits should check out Method:Donor for a CRM.
Revel Systems POS – a Point of Sale system available on the iPad that leverages the power of the cloud to seamlessly and automatically sync sales, payments, and inventory to QuickBooks.
SOS Inventory – Need better inventory, order management and manufacturing than you get with QuickBooks Online? Get sales orders, assemblies, serial inventory, multiple locations and more, all at a fraction of the cost of traditional manufacturing systems.
Avalara AvaTax – Connects to QuickBooks Online. Rates are calculated "behind the scenes" and are automatically applied to the invoice. Reports are generated on-demand, and invoices are synced seamlessly for filing on the back end.
T-Sheets Time Tracker – Time tracking for hourly employees. Designed to simplify payroll, invoicing and job costing.
Sync with Square – Square sales related transactions are automatically imported into QuickBooks Online.
Mavenlink – Collaborate on projects in a central, convenient workplace, and sync tasks with Google Apps. Manage budgets and integrate with QuickBooks and PayPal. Track project timelines and dependencies on Gantt charts. Create invoices and send to clients.
Of course, Sound Business Services can help you evaluate the apps that are a best fit to your needs, and help you configure them for QuickBooks Online. I also find my list constantly changing, depending on the new apps Intuit constantly comes out with, so I'll update this top 10 list periodically. Email us today, or call 770-745-4283, if you have questions. We're here to help!