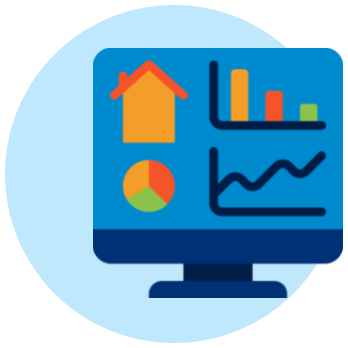 SBS is passionate about helping their clients get the most out of QuickBooks. QuickBooks is a powerful tool, but is only helpful if setup and used properly. Since 2006 SBS has been helping clients understand and utilize QuickBooks Desktop and Online. Please take time to explore each of their solutions below and see how SBS can help you unleash the power of QuickBooks!
Setup for QuickBooks
Cleanup for QuickBooks
Training for QuickBooks
Hosting for QuickBooks
Save time and money with QuickBooks. QuickBooks financial management software was created with small to mid-sized business owners like you in mind. Quickbooks has proven stability. It's been around for years, and its broad customer base is testimony to its reliability. Not only that, but it comes with a bargain price. It doesn't matter if your income is a little or a lot, QuickBooks handles your receipts and payables with the same ease at a very affordable price and it grows as your business grows. 
Benefits include…
Save time

 

by dealing with common tasks automatically. 

Generate and customize reports

 with ease. 

Easily customize and adapt

 your setup so that it will work the way you need it to work for your business. 

Reliable, easy data sharing

 with hundreds of other business applications including Microsoft Office.

Manage invoicing and payments online

 

— No more check-in-the-mail syndrome.

Integrate merchant account service with your software

 

so you can easily accept credit card payments — no additional hardware or software required.

Pay bills online

 

by setting up your current bank account in Quickbooks. Write checks in QB, click a button, and your financial institution does the rest. 
"Hassle-Free" Setup
Let us set up QuickBooks for you, helping you avoid days (or potential weeks) of hassle and aggravation! When hiring us to set up QuickBooks for your business, you won't lose any time on installation and setup of the system.
We will…
Review your current accounting system and determine your needs, including the setup and design of your QuickBooks accounting management software.
Determine your best start date and load balances as of that start date, including outstanding accounts receivable and outstanding accounts payable as of that start date.
Prepare the list of services, inventory items, non-inventory items, any additional charges, and sales tax that you will bill to your customers.
Enter any transactions as of your start date into the QuickBooks system.
Train you or a member of your staff to use QuickBooks to meet all of your accounting and financial management needs.
Follow-up training to make sure the system is working seamlessly for your business.
Monthly, quarterly, or annual review of data to make sure you are on track for tax preparation and the necessary management reports to build your business.
Training for You and Your Staff
The quick and simple "fix" to any potential QuickBooks problems. Our one-on-one instruction is the perfect way to begin your QuickBooks experience. No more wasting time on the generalities introduced in a typical class by having our expert come directly to your office with the goal of teaching you exactly what you need to know about your QuickBooks setup for the smooth operation and efficiency of your particular business. Our expert provides training on the QuickBooks software, increasing efficiency and knowledge of your new accounting method immediately.
Reset Your Quickbooks
Does your bookkeeping need a little housecleaning? If you have eased your way into using QuickBooks and learning to utilize the software to your advantage, you may find that your records could use a little "housekeeping." Let our experts assist you with our 4-hour "clean up" service where we prepare you for tax time, review your finances, or simply help you to organize and clean up your bookkeeping system for maximum efficiency.
We can help you customize reports, tie up stray pieces, and make sure your general ledger balances along with subsidiary records. Our housekeeping services are offered at one low price that will save you money in the long run.
Theo Gilbert-Jamison, Chief Executive Officer of Performance Solutions by Design
"Your team is so incredible! You are very professional, very accurate in your work, and always proactive in helping your clients be better."
Mike Lauter, operations director of First Presbyterian Church of Douglasville
"Having SBS help us transition to the cloud has been tremendous. It has also been a savings in cost. They have also helped us significantly reduce our paper usage."
Kevin Caiaccio, owner of The Caiaccio Law Firm, LLC
"We handle a lot of client's money – sometimes tens of millions of dollars. Knowing that you are accounting for it on a weekly basis helps me sleep at night."
Roy Smith, owner of RA Asphalt
"When you guys first came, I was overwhelmed administratively. Things were chaotic. You guys came in with a game plan. It was a breath of fresh air."
Let us help you transform your business and simplify your accounting.