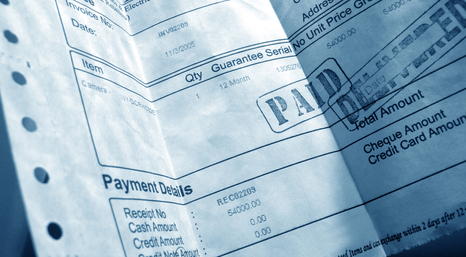 When you run a small business, every aspect of accounting can be a headache, but one in particular can have you scratching your head – accounts receivables. A customer may remit payment and fail to include an invoice or other identifying number – or, they may pay an amount other than the amount invoiced, and you have a tough time determining why there was a deduction made. Essentially, accounts receivable is a process in which sales are made on credit. You sell a product or service to a client, but you don't receive payment until a later date. At Sound Business Services, we are an Atlanta bookkeeping service who realizes that while it may all sound simple, nothing is ever as simple as it seems.
If you intend to handle your own accounts receivable, you will need to be aware of the procedures involved so that you don't inadvertently overlook invoices that have not been paid. After all, customer payments are what keep you in business, and ensure your company stays "in the black."
Some of the procedures involved in accounts receivable include:
Knowing what steps are involved in extending customers credit
Having a system in place to maintain the status of invoices until payment is received
Issuing month-end statements to credit customers
Extending credit to new customers, a process involving account application forms
Supplying new applicants with a copy of your terms and conditions which clearly state payment terms, interest rates that apply on late payments, and details such as any collection fees that will be the responsibility of the customer if you have to take action to collect a debt
Some companies that are smaller still today choose to use a manual receivables system, while others are more comfortable with a computerized bookkeeping system which includes a software with an accounts receivables option. Either way, it's important that there is a system in place to easily keep track of which invoices have been paid, which haven't, and which have been partially paid.
Equally as important is the proper application of payments, so that you don't show an open invoice when it has in fact been paid. You don't want to call or send out a reminder notice to a client who has already paid! This would be not only embarrassing, but could make clients question your competency.
Depending on the size of your company, accounts receivables can be relatively easy to manage, or can cause you undue stress and more work than you bargained for.
As reliable Atlanta bookkeeping services, Sound Business Services, Inc. understands the importance of having a foolproof system in place when it comes to accounts receivables. Outsourcing even a portion of your accounting processes can relieve the stress, and allow you to focus on other important areas of your business. Give us a call today!