4 New QuickBooks Online Features: Next-Level Solutions for Your Workflow
You may have heard me say it before, but QuickBooks Online (QBO) makes a big difference for small business success. Besides providing powerful tools and resources that change how you work, QBO is constantly being updated with new features to not only alleviate stress, but also deliver you next-level solutions to your everyday needs – all thanks to Intuit.
The latest batch is no exception. Here are four QBO enhancements and how they impact your business. And, of course, Sound Business Services (SBS) is here for you every step of the way to help you implement, and get the most out of, these features.
1. Time-off tracking is now a breeze. As a small business owner, you know how important it is for you and your staff to take time off to be with friends and family, and get a much-needed break from work. In the past, tracking paid and unpaid time was always a challenge, but now it's a breeze, thanks to QuickBooks Online Payroll.
Now, packed inside QBO Payroll, you'll have tracking options that keep you compliant and less worried, allowing you to focus more time on helping grow your business and less time stressed while on vacation. SBS can show you how to use this new feature.
2. Contractor payments made easy. Sometimes, we forget to make contractor payments on time; after all, we are human. Either way, this could send a contractor into a frenzy.

Make that a thing of the past by implementing this new feature inside QBO Payroll, where you can schedule contractor payments in advance. Not only will you cut down on missed payments, but you'll also avoid having to sign in on specific dates to pay your contractors.

Here is an example of how to schedule out a contractor payment: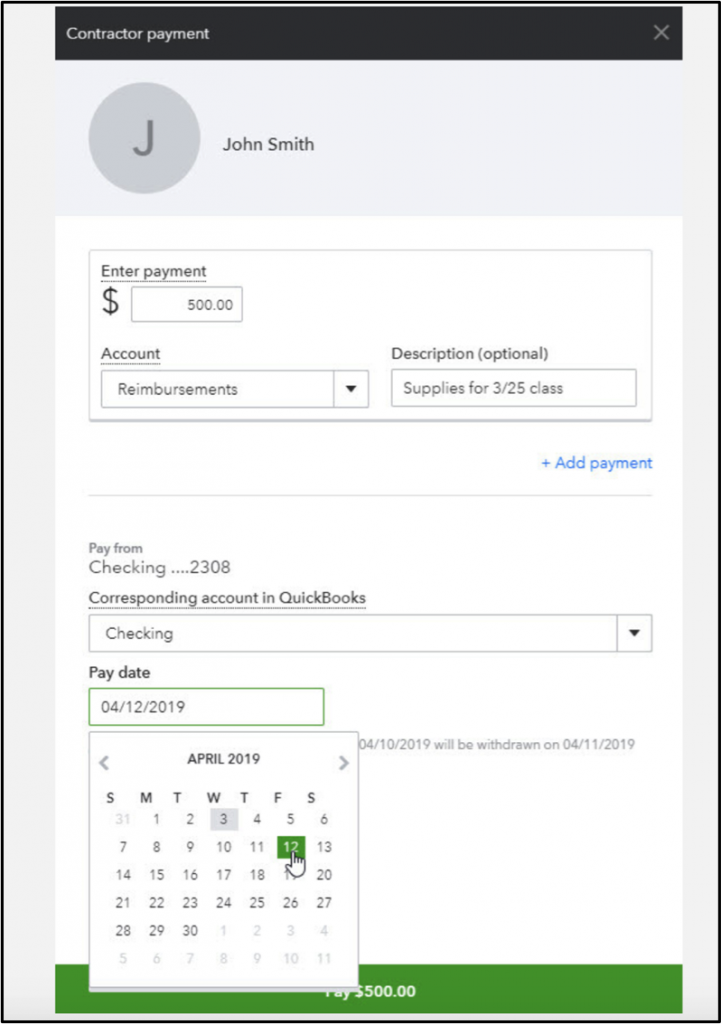 3. Cover your bases with a third accountant. Now in the new QuickBooks Advanced, Intuit's online solution for mid-market businesses, you can add a third accountant user to your subscription – for free.

That's right, why have two heads when you can have a third? So, whatever you need tax-wise, such as support or consulting, you can get from a third accountant in your system.
Here's where you'll see the list of accounting pros available to help:
4. Customized fields for maximum tracking. At SBS, our customers are our business. We make it our personal mission to go the extra mile in delivering them the services and solutions they need to grow their businesses and experience success.
One solution that's new in QBO Advanced is the custom fields option. This allows you to create an unlimited number of customer fields (having up to 10 active at once) in order to have everything you want/need to know about your customer at your disposal. So, whether it's sales report data, transactions, customer bios or anything else, you're able to keep all the pertinent information in one place, serving your customers in the best way you can.
Here's an example of some customized fields showing up on your invoice: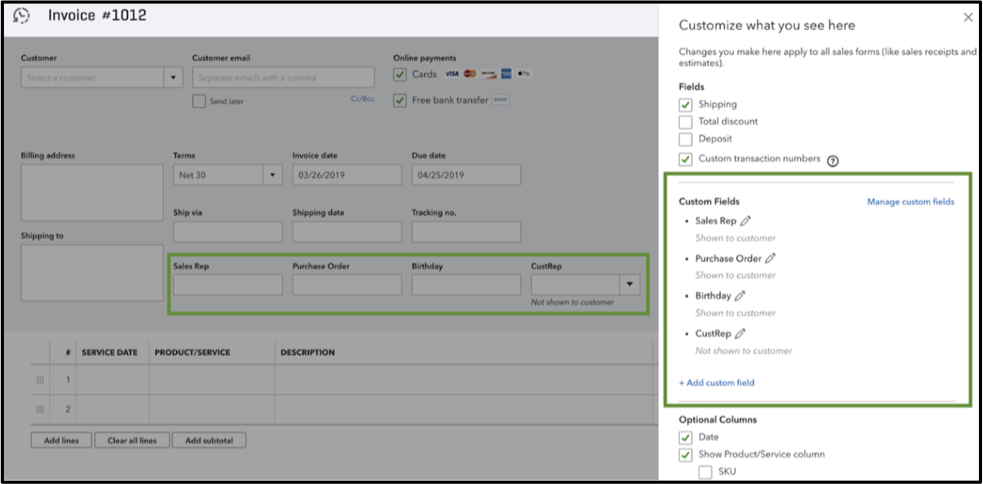 Ready to Tap Into These New Features or Have any Questions? We're Here to Help
It's fantastic that Intuit takes your feedback and delivers new and exciting features to impact your business, but our help and expertise is the key to getting you the best solutions you need to grow and prosper. If you still haven't made the leap to QBO, or are ready to tap into these great new features, contact us today. You'll be on your way to next-level growth and maximizing your workflow.
(Images courtesy of Intuit QuickBooks)